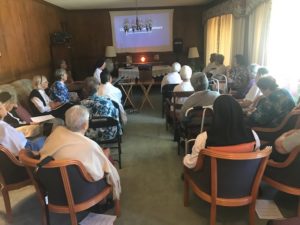 On Saturday, October 5, 2019, the Sisters of the Sacred Heart of Jesus from the Sacred Heart Province in the USA came together to participate in the first part of the feedback of the 2019 General Chapter.
With the help of a slide presentation, Sisters Laura Gonzalez, Marjorie Vincik, Ernestine Trujillo and Cynthia Johnston showed the sisters pictures of the marvelous surroundings where the chapter took place and introduced them to all the people at the service of this event.  Afterwards, each delegate shared her personal impressions of the Chapter and what this important congregational event had meant to her.  The sisters of the province were then invited to share how they had lived the Chapter.  While the sharing was different from person to person, it converged around one common point: during this time, we were conscious of belonging to a larger body, of being part of the family of the Sisters of the Sacred Heart of Jesus, in its oneness and its diversity. This was founded on our involvement in the preparation for the Chapter.
Information was likewise given on the work of the Chapter in general, the entity presentations and the presence of the associates.  At the end of the day, during a time of prayer, the Orientation of the Chapter was handed out to each one.  Part two of the feedback will be done on October 19 in order to deepen the Orientation and to build from it a common project for the Province.
And here, a reaction from one of the participants: "Thank you all for a most informative, interesting, and inspiring presentation on bringing the spirit of the Chapter to life through photos and your personal experience. Grateful for the way you helped us to capture the richness of our SSCJ charism…"