The group "LIFE of GOD" that spent the weekend at Bethany facilitated and shared in the Eucharistic celebration held at the Mother House on Sunday, October 25.
At the beginning of mass, a member of the group said a few words about themselves: this group has its origin in the "Youth – Light" School of Prayer and Evangelization that was founded in 1984 by Daniel-Ange* accompanied by Father Marie-Michel and three couples.
"Youth–Light" rests on four pillars:
Prayer
Fraternal Life
Formation
Mission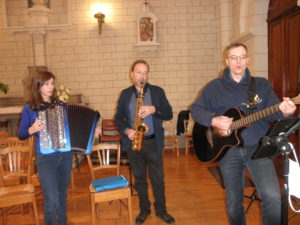 Songs, accompanied by guitar, accordion and saxophone, set the rhythm for this time of prayer together, bringing joy and hope.
"No, faith is not dead", said a sister with enthusiasm!
* Father Daniel-Ange, from Maupeou d'Ableiges, is a hermit, monk, Catholic priest and French-Belgian writer born on October 17, 1932 in Brussels, Belgium.  He is known as the founder of the Youth-Light school of prayer and evangelization and for his books on spirituality.