OPERATION 500 BAGS OF SHORTBREAD COOKIES / 500 THANK YOUS
This was the invitation that the priests and pastoral ministry team of Trappes parish sent out to the parishioners.
After lockdown comes the time to say THANK YOU.
Thank you to the hospital, laboratory, nursing and pharmacy staff.
Thank you to the businesses that stayed open to insure our subsistence: bakers, butchers, grocery store workers and cashiers.
Thank you to those who continued to provide essential social services: postal carriers, municipal police, undertakers, garbage collectors, security guards, computer and telephone repair technicians, etc. …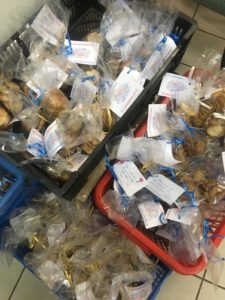 The operation was carried out from May 9 to 13.  And the biscuits (cookies) were distributed by groups of parishioners from May 14 to 15.  Operation "500 bags" grew into more than "750 bags".  The parishioners and friends of the parish came on board and went straight for the ovens.  It was a huge THANK YOU that went throughout the city of Trappes.
Our community joined in solidarity, baking and delivering cookies.
If you want the French recipe for the shortbread biscuits, click on the following link:
The S.S.C.J Community at Trappes (France)