Happy Birthday Sr. Angèle!
On October 22nd the Mother House community gathered together for a day of jubilation and thanksgiving for Sister Angèle Blain's 100th birthday.
"You are probably saying that all is prepared because on the 17th of this month we celebrated Sr. Félicité and the tone was set!"
Yes, the tone was set, but each person is unique and a party can adjust to the person it celebrates. Angèle, surrounded by her three sisters: Anne-Marie, Germaine and Geneviève took their places early, sitting in the first pew of the chapel. Day of joy and thanksgiving, the festivities started with the Eucharistic celebration, gathering us together and also welcoming a few members of Sr. Félicité's family who were unable to come on the 17th!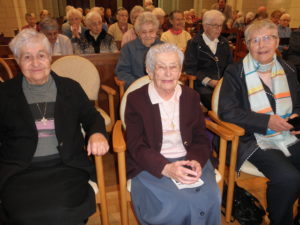 Before the celebration began, Marie-Agnès, the grand niece of the Blain sisters, was the first to address her dear aunt. "A very happy birthday, my dear aunt! Thank you for your vitality, so well conserved… Thank you for your kindness, your childlike heart, your unshakeable trust in the Good Lord… When you go and see St. Peter, tell him to hand out your qualities… and give me a sprinkle of them."
So, on the feast of St. John Paul II, Father Dréano introduced us to the celebration! Surprise! Thanks to him looking in the right place, Father Dréano was able to show us Angèle's baptismal certificate, signed and dated October 18, 1928 at the church of St. Gorgon. This was a beautiful and significant moment of remembrance for our sister, and we were all touched by our chaplain's delicate gesture.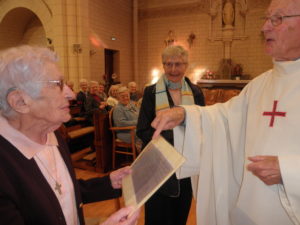 It goes without saying that such an event meant making our way to the dining room, filled once again with colourful floating balloons: 100 years… Happy Birthday! Sr. Marie-Odile Caudard with the Sisters of the Sacred Heart originally from St. Gorgon, proud of their oldest compatriot, were happy to facilitate this fraternal time around the table, giving place to our artists and sound system…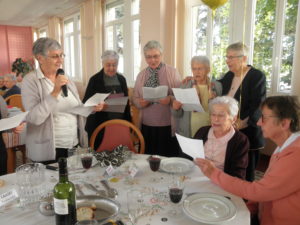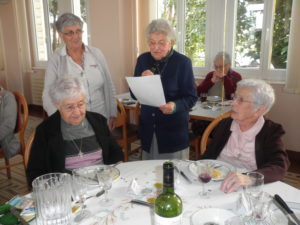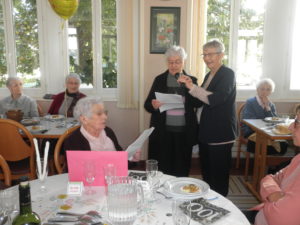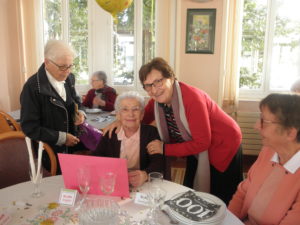 Be strong Angèle
Look forward
God guides you, keep trusting
Walk cheerfully in hope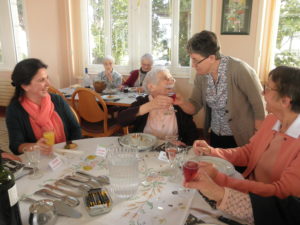 Then a song brought us all together: "The Day has come when life sings Thank you!"
Thank you, Angèle, thank you to the staff for the delicious meal served with joy! All the best as you continue on your journey, Angèle, and in a few days have a good celebration with the extended Blain family that we will happily welcome.
Aimée Pondard, sscj