The sisters of the Region of Cameroon gathered for there second annual assembly from April 28 to May 1, 2023.
Theme: "The SSCJ Charism taking root and being open"
The Region works in commissions, each of the persons in charge is a member of the Broader Regional Council.  They are 6 in number, corresponding to the realities of the entity.  They must address several challenges and perspectives for the future throughout the present mandate of the Regional Council. The assembly was therefore the outcome of work initiated last October, allowing time for evaluation, and pushing us forward.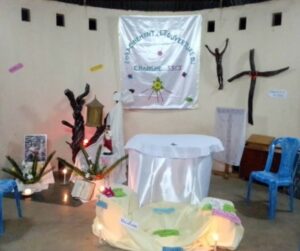 On the first evening, an emotional celebration gathered the sisters of the Region in our chapel and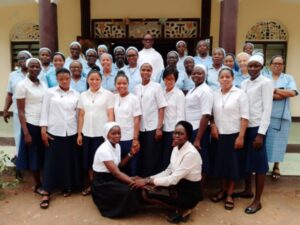 each group brought a symbol.
Pastoral of vocations presented a "chameleon" that has the ability to change colour, to walk slowly, it is therefore important to allow oneself to be transformed by the milieu where one lives, to go step by step when discerning.  In addition, the female, after hatching her eggs, goes up in the trees and lets her little ones grow.  We don't monopolize the lives of the young people that we accompany.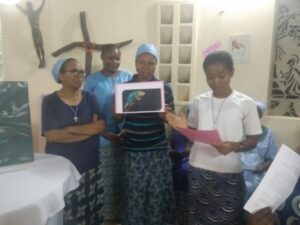 Formation: A silhouette of Angélique on a poster called, ''Haunted by human suffering''… The word ''Formation'' covers the objectives of the commission: focusing on "growth", "listening", "freedom", and that prayer, the expression of our relationship with Christ, be incarnated in all these things!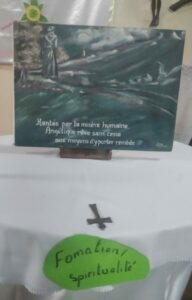 Associates: A broom is made of several twigs for a common ASCJ and SSCJ mission …
Patrimony: Image of people in solidarity, united in serious and rigorous work.  In order to build, we put our talents together.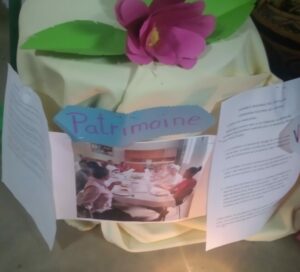 Finances: A granary represented by a calabash gourd shell containing earth represents our entity.  The granary symbolizes our autonomy and security, assurance, and confidence.    There are different kinds of provisions:  corn, millet, peanuts, beans, potatoes, rice … Like the farmer who sows seeds in the ground with confidence, "we, the SSCJ of Cameroon, holding hands together, unite our efforts, our gifts, our talents.  Move forward in confidence toward autonomy and self-responsibility by counting on the Lord's grace.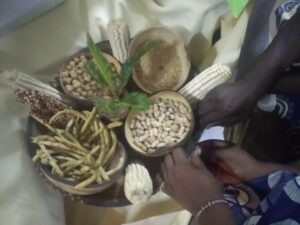 Internationality: An earth globe represents the unity and missionary dynamism of the Congregation, it is lived out when a sister is integrated in her community, at ease in her mission, responsible for the life of the Institute.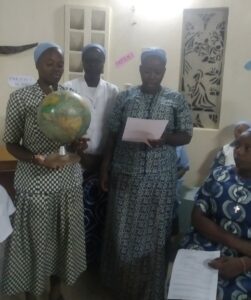 During the assembly, we benefitted from the experience of an accompanier, a priest from the Diocese of Ngaoundéré and trained in Development projects. This proved beneficial in helping us establish plans of action, analysis, and evaluation.
Having 9 novices and 2 aspirants with us, to provide different services for eucharistic celebrations and meals, was invigorating and created a festive atmosphere throughout the days we were together.
On Monday, May 1st we were able to continue discussions related to the different needs of the Region's services and commissions.  The Episcopal Vicar for consecrated life, the Saint Pierre Parish priest OMI (Oblate of Immaculate Mary), came to celebrate the Eucharist.
The Sisters from the Region of Cameroon