On September 29, Father Bernard Noyer (o.m.i. and chaplain at the motherhouse) began his homily with the following words:
"Since your foundation in 1816, times have not changed. The battle against the forces of evil, against all forms of suffering, against difficulties and injustice, still exists. But we have the certainty of God's Presence at our side. Jesus promised us this, and He is a faithful God; He keeps His word, … always: "I am with you always, to the end of the age" (Mt 28:20). And we have the support of the holy archangels: Michael, 'he who is like God', Gabriel, 'the strength of God' and Raphael, 'he who heals'."
Let's not forget, we also have the support of our foundress Angélique le Sourd, and her companions, who made their first profession on September 29, 1828.
195 years later, the harvest is still plentiful. God is still calling.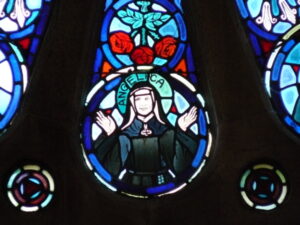 We are delighted to welcome to the postulancy:
– Marie-Louise – Claudine – Nianjara – Rufine – Aimée, in Antisarabe (Madagascar)
– Viviane – Marie – Evelyn – Nadège, in Djamboutou (Cameroon)
We are delighted to welcome 4 young women to the novitiate in Ngaoundéré (Cameroon):
– Elisa RAOLISOA, Malagasy
– Volatina RAHARIMALALA, Malagasy
– Viviane NESWACRI, Cameroonian
– Bridget OCHICHI, Kenyan
We also keep Martina, a postulant in Papua New Guinea, in our prayers.
May the Lord bless their endeavors and accompany their formators and formation communities!
Esperanza No. 37 – September 2023