At the end of March, the Associates from France, the Sisters at the Mother House and surroundings, and a few members of the CVX Loire-Atlantique, came together for a time of discovery and personal enrichment on a topic of current interest:
Accompanying those at the end of life until their last breath.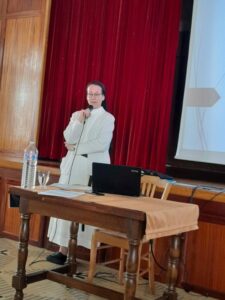 To help us in our reflection, we benefitted from the competence,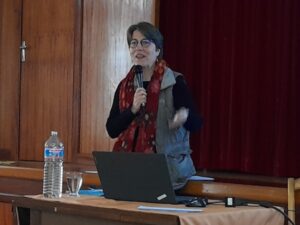 humanity and humility of Sister Roxane, Prioress of the Augustinian Monastery at Malestroit and that of Dr. Bécuwe, an oncologist for the Palliative Care Unit at the hospital in Redon/Carentoir. Sister Beatrice Brocard, SSCJ was also there with her experience as a hospital chaplain from 2011 to 2021.
The speakers greatly enlightened us, giving us a better understanding of how the sick person's dignity is respected, how that person and their families are accompanied, and how, after the death of their loved one, the grieving family is accompanied if they desire it.
A few reflections on these two days:
"I wasn't familiar with palliative care."
"I learned a lot about the different forms of sedation."
"It comforted me."
"I am at peace."
"I was touched by the closeness and compassion of witnesses for people at the end of life and their families."
"The beauty of the last days exists." "Life is shared in every moment."
Everyone left feeling nourished and hopeful, with a more positive attitude about the end of life!
Marie-Annick Hervieux, Associate