20 Christians, 20 Muslims, 20 Jews at the Arab World Institute in Paris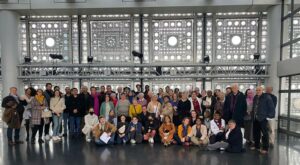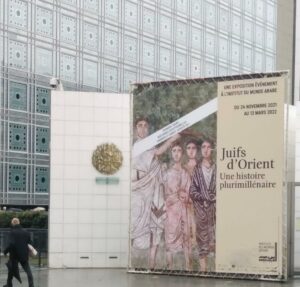 Leaders from 3 communities, Christian, Muslim and Jewish from Agglomération de Saint Quentin in Yvelines, decided to meet the challenge of bringing 20 members from their respective communities to visit together, the magnificent exposition "Jews from the East".
This was a lovely fraternal initiative including a sharing about different periods of our common history, inviting us to build today with a better understanding and experience of each other as friends.
Over the centuries, it has not always been the happiest of times for these 3 religions to cohabitate, but there were also times of cordial understanding, particularly in the fruitful coexistence of Jews and Arab-Muslims in the East for 15 centuries.  If that was possible in the past, what prevents it from happening today?  There are more things that bring us together than separate us.  It is for each person and collectivity to build and follow a path of peace.
We all came on a friendship bus so we could discover a place of primary importance for entering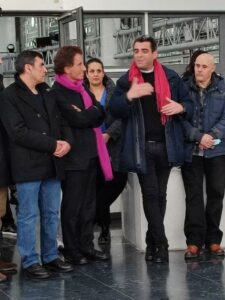 into dialogue.  To facilitate the visit, due to the impressive number of visitors, we were split into 3 groups, the "3 religions" were mixed together.  After a one and a half hour long guided tour, mostly about the Jewish people, we found ourselves with Mr. Jacques Lang, the Ex-minister of Culture, who is now the president of the World Arab Institute.
He was noticeably happy to receive us and most happy that the exposition would end in an original way, unique to the Institute, rich in symbols.  (The exposition followed that of the "HaJJ-pilgrimage to Mecca" in 2012, and that of "Christians of the East, 2000 years of History" in 2017. He even invited himself to Trappes!
§§§§§§§§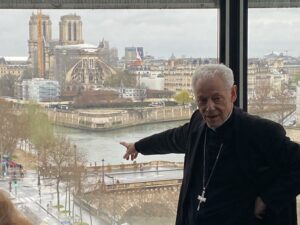 On the 9th floor of the Institute, the view overlooks Paris, starting with the Notre Dame Cathedral.  And then there was the "cherry on the cake", Mgr Chaplain, ex-Bishop of Yvelines, now entrusted, by the Paris Diocese, with the supervision of the restauration of buildings, came and presented different aspects of the construction site.  (The joy of reunion was visible on everyone's faces!).  He strongly invited us to go and see Jean-Jacques Annaud's beautiful film, "Notre Dame is burning".
It was an afternoon rich in historical knowledge, in mutual understanding and fraternal exchanges.  A follow-up was vigorously requested, to strengthen our connections, it appeared to have been heard by the leaders.
SSCJ Community – Trappes