In May, a message was sent to me via the website of our congregation.  It was signed by a member of a parish association for the support of refugees. 
This association – that I didn't know about – was looking for people who might be able to help this woman build her dossier by finding essential documents in Douala (South-West Cameroon).
http://paroisse-stjeanpaul2-35.catholique.fr/solidarite-et-mouvements/solidarite/article/tabgha-solidarite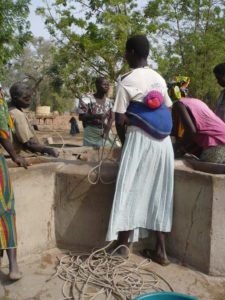 "The association Tabgha Solidarity also made a commitment to welcome a young woman from Cameroon (…) After travelling 8 months through Africa, the Mediterranean and Europe, this young woman, of 23 years, arrived in Rennes at the end of September.  Two days later, she gave birth to a little boy!  As an emergency measure, she and her baby were received by several parish families before finding lodging with the Welcome Association of Rennes.  Tabgha Solidarity continues to accompany her in completing her paperwork in seeking asylum and supports her financially."
She needed confirmation proving that she entered the law faculty of the University of Douala in 2014/2015 and a record of her marks proving that she was in fact registered.
Through my mediation, the Catholic mission in Cameroon was able to contact a Jesuit priest who teaches at the University of Douala. He was able to find the necessary information concerning this young woman.
Knocking on many doors led to a solution.  My first reaction was, "what can I do?":  I was tempted to avoid the situation and not answer the message I received.
At the same time, Nathalie, the author of the message, and the whole association with her, struggled to find a solution so that Fatima* would not be led back to the border.  She shared with me how they struggled, their determination to find an open door with listening hearts who were ready to get involved.
It was by going through a list of the different congregations in the region that she providentially fell on our contact information.  Finally a path opened up!  A month later, after a wonderful chain of solidarity, the association announced the good news that Fatima's dossier was accepted!  She can now continue to rebuild her life, with her child, in France.
This experience invites me to answer, with an effective response, when God winks at us, making us leave the quietness of our daily routine. 
MF Naël, sscj
* For reasons of discretion, the woman's first name was changed.