At exactly 10 a.m. on Saturday, January 11, 2020 a Mass was celebrated for the repose of the soul of our very reverend sister Simone BAGOT in the chapel of the Minor Seminary of Saint Paul of Guider where she devoted most of her time in the formation of future priests. The very fervent Mass was celebrated with the minor seminarians' full and active participation. This enthusiasm was also demonstrated by the widespread mobilisation of previous seminarians who are now priests. In addition to the Seminary formators, the Eucharist was celebrated by Father Christophe IDRISSA, the first priest to graduate from the Guider Minor Seminary. We also noted the presence of Father Maurice YAYA SARDE,  Rector of the Cathedral of Garoua, Father Alexis GASAWA, parish priest of Moyo-Ouldémé, Father Sylvestre ETAME, parish priest of the English parish of Garoua, and Father Gabriel FARSSI, parish priest of Kousseri. The Sisters of the Sacred Heart of Jesus were also in attendance.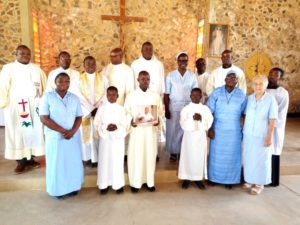 In his homily, based on the readings of the day, Father Christophe IDRISSA went over Sister Simone BAGOT's human, moral and spiritual qualities at length. It was said that Sister Simone was well-known for her firm control and authority. She also had perfect knowledge of her students to the point that she could even recognize their writing. In class she was a teacher beyond compare: her way of explaining things meant that even the weakest student had a passing grade.
After Mass, with the priests' testimonials, we understood that our sister was a generous person who knew each seminarian's personal situation and that she acted discreetly so that she could comfort them when in distress. Through her scientific rigour she was able to form several generations of ecclesial and social elite. It was with joy and thankfulness to God for the life of Sister Simone BAGOT that the Mass came to a close with the final benediction.
Sr. Pauline Maïdawé
North Cameroon