What initially was an intuition for something in the future at the Mother House has now taken shape with the creation of the position of "Community Assistant". With the back and forth between reflection time and research carried out by the Congregation with the Province of France, with the help of experts, the criteria for the position were narrowed down.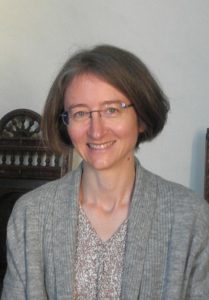 On March 22nd this process came to its completion when Mrs. Brigitte Mercadier was welcomed by Srs. Anne Chapell, Marie-Madeleine Tual , Martine Guichard, treasurer, and the three sisters from the Local Council: Srs. Suzanne Le Dauphin, Marie-Odile Caudard and Thérèse Boulo, who in the coming weeks will share their mission with her and gradually map out what this new position will really look like.
The house is big, the services are diverse; the whole day on Monday was dedicated to meetings in the different sectors of the house.  It is important that everyone who lives and works here is able to put a face on the name that has been announced only recently!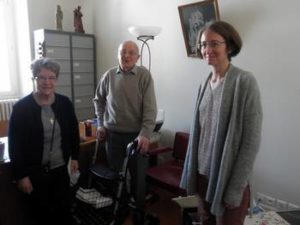 The first visit is with the chaplain, Father Dréano, who unfortunately is leaving today to take time to rest, for health reasons.
This was followed by meeting the sisters from the 1st floor in their community room.  After mass, she met with the community from the main floor, followed by a meal with them that included Father Dréano.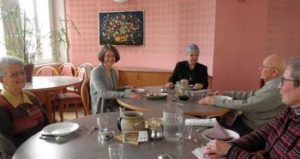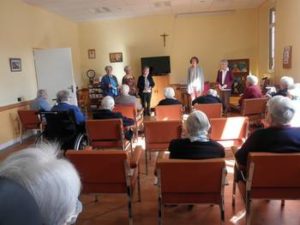 Community room on the first floor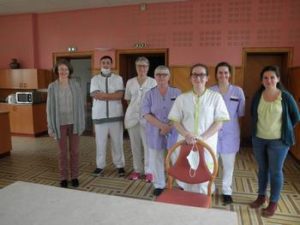 In order to get to know as many of the staff as possible, priority was given to visiting the staff during report time in the cafeteria and later with the staff where the sisters receive health care.
In between programmed visits, Mrs. Mercadier was shown her office.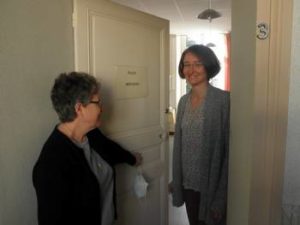 Mrs.  Mercadier at the entrance of her office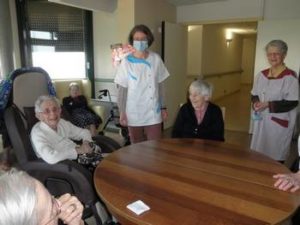 This very full day finished with a snack in the Protected Unit.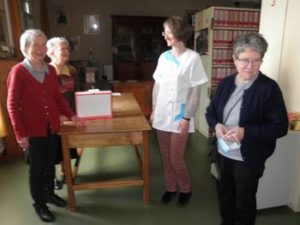 And… at the archives
Mrs. Mercadier is sure to feel that everywhere she goes she is being welcomed with an open heart, wishing that her presence among us will be enriching.
Sr Yvette Guyot, SSCJ