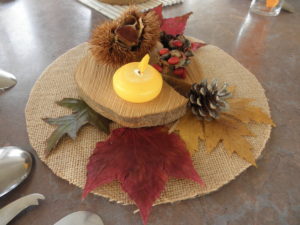 On November 12 at the Mother House in St. Jacut les Pins beautiful fall colours have showed up in the dining room along with an enormous pumpkin, adding to a feeling of autumn.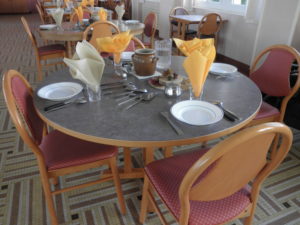 What a good idea it was to let everyone admire the beauty of nature before the coming of winter – which also has its share of beauty. 
How much do the pumpkins weigh??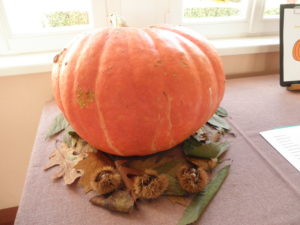 Guesses are made as to their weight… Whose guess will come closest?
The pumpkin on the first floor weighs 22 kg 500 gm. Well done Sister Marie Jo! Right on!  And in spite of tired eyes … no doubt there is a photo coming… before winter!!

The one on the main floor weighs 23 kg 750 gm. Well done Sister Germaine!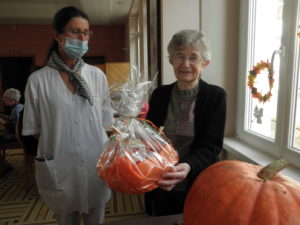 During the meal a thought provoking story is told! "THE ACORN AND THE PUMPKIN"
A villager laid down under an oak tree and looked up to see a shoot of pumpkin that had reached up and climbed over the neighbour's garden.
He shook his head and said, "Hmm, hmm!" I find it very strange that a shoot that is so slender and creeping all over the place like this one, produces fruit that is so big and magnificent, while this tall and superb oak tree produces something ridiculously small.  It insults common sense.
"If I had created the world, I would have had only big beautiful golden yellow pumpkins weighing at least 100 kg growing on the oak tree.  It would have been so beautiful to see".  Barely having finished what he said, an acorn let go from the top of the tree and fell on his nose with such great force that his blood was spurting.
"Ouch," cried the startled man, "something bizarre to punish me for my impertinence when I dared blame God for something he thought was worth making.  If the acorn had been a pumpkin, it would have crushed my nose for sure."
Beware of blaming God's work.  Beware of reproaching God for his deep wisdom.  He alone understands the laws that govern the world.
An acorn proves just how little we understand.
Journal de la jeunesse 1895-1906
Thérèse and Annie
photos  Yvette and Christelle