Keep alive the remembrance of the Lord; hold in our heart the memory of his wonders!
He arrived in 1988. For twenty years he walked up and down our hallways, we ran into him on the stairs, a discreet presence, expressing a life given to the mission that was entrusted to him: being the assistant of the Chaplain of our Mother House in St. Jacut.  Who are we talking about? Father René Bocquené, the brother of our dear sister Maria. For 23 years he took on this responsibility and twice during that time, he was alone for at least two years, initially after the departure of Fr. Pocréaux, and then after Fr. Provost left.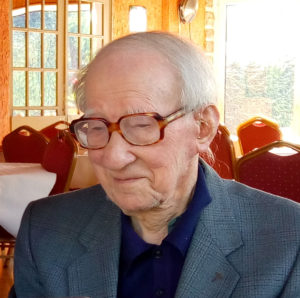 He attended all of our celebrations participating with gusto. He so often talked about "our congregation", "our sisters", without any hint of possessiveness, but more as a way of expressing his identification with the big SSCJ family that he loved very much.  Everything that we lived was of the utmost interest to him, especially when it came to the younger entities.  He liked us to speak to him about the missions, and when a sister would go to him to say goodbye, he would always slip her a small bill, it was done with such heart!
He gave a lot of his time to our sick sisters and those who couldn't leave their rooms for various reasons.  Everyone who went to him experienced the quality of his respectful listening and his presence as a sign of God who frees, enlightens and consoles.  Many of those whom he accompanied, as they made their passage to the Father's house, surely set up an honour guard for him when it was his turn to go, this Saturday, the 21st of September!
Although he wasn't too excited about his precious 2 horsepower car, it did allow him to go regularly to his house in St. Martin, and in autumn he would bring back apples for the different communities living on the Mother House property.
When he left for the Angélique Le Sourd residence, on December 28, 2011, it must have been difficult for him.  Moving close to us though allowed him to come back to visit some of the sisters.  It also made it possible for him to visit the tomb of his sister Maria each day. Being a neighbour gave him the advantage of being present at the funerals of the sisters, our jubilee celebrations and various other get-togethers.
At the retirement residence, I sometimes witnessed his kindness to the 3 residents who shared his table in the dining room.  When he arrived, he would tuck a table napkin in the shirt of whoever needed it, and he did it with such natural grace!  The 3 residents told me, with pride, how lucky they were to be with him. Once again, a quiet presence as he continued his mission.  In his own way, his life must have been filled with small gestures, full of life and rich in quality of being!
Even though he little by little slipped into isolation because of his increasing blindness and deafness, he was always happy to have a visit. Connecting with him wasn't easy, but it was always possible. One of the things that surely gave him joy was when he was still able to continue saying mass with our Chaplain, or when he said it alone with the help of the sisters.  The last stage of his life began when he was no longer able to celebrate mass.  What he lived at this time remains written in the heart of God…!
Now, Father Bocquené celebrates in the Kingdom, and for us, he remains present and active more than ever.  In him, we surely have a great intercessor who we meet in this prayerful communion.  We thank the Lord for having given him to us, serving us for so many years.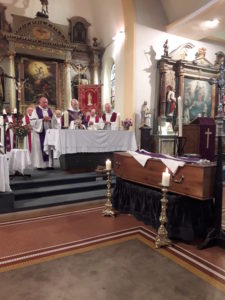 Father Bocquené brought us together, one last time, for his funeral celebration presided over by Mgr Centène, in St Martin sur Oust, Tuesday the 24th of September.  The circle of 12 priests gathered around the altar along with different eulogies allowed us to experience priestly fraternity.  Songs, prayers, testimonies, in a deep atmosphere of peace and trust were how the last farewell was lived by family, friends, parishioners, and fifteen sisters.
In this same movement, with one heart, Fr. Bocquené, your dear sisters say to you,
Thank you! Rest in peace, in the Light of God!
Yvette Guyot, sscj.