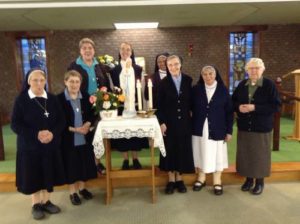 Pope Francis in his encyclical Fratelli Tutti describes 'tenderness' as "love that draws near and becomes real. A movement that starts from our heart and reaches the eyes, the ears and the hands". (p. 194)
What a great opportunity for us at Naza-reth House to live up to this challenge even as we are experiencing the lockdown once again.
We are getting to know the Sisters and Residents better. We listen and chat and laugh with them. Communication with the Sisters and the Residents is very important for us. We share coffee mornings with them; we pray together especially at the daily Mass and the Rosary. We have joined in their services in the Chapel- the Sacrament of the Anointing of the Sick, and the Sacrament of Reconciliation with general absolution.
Needless to say, we are constantly in contact with Sr Mary Paul and Sr Janet. We visit Mary Paul frequently and we contact Janet by phone as we cannot visit her care home at the moment. Every evening we have the Office together as a community, in union with Mary Paul, Janet, Yvonne and all the SSCJ.
We miss not being able to go out to do our shopping and visit our friends but we pray that all that will end soon.
Your Sisters from Finchley
Hello and Greetings from the Orchard Nursing Home in St Albans. I do think of all of you and pray for you. I think of the different coun-tries you come from and especially the Novices in Paris. The Care Home where I am living has a wonderful atmosphere and is a good place to be. A lady, who is a Baptist, and I run a Prayer Service. We now have many people joining us. They love listening to hymns. We want to let those with faith or no faith know that God loves them, and not to fear dying as all will go to a loving and merciful God.
I think often of the Mother House and the Sisters there. I wish you all much hope and courage in the face of COVID 19. I would really love to go to the Mother House to see you all, but I will go in spirit with all my love and best wishes whatever may come our way.
Sr Janet