"WE NEED A CHURCH CAPABLE OF WALKING AT PEOPLE'S SIDE, OF DOING MORE THAN SIMPLY LISTENING TO THEM; A CHURCH THAT ACCOMPANIES THEM ON THEIR JOURNEY…"
POPE FRANCIS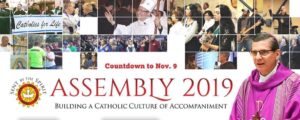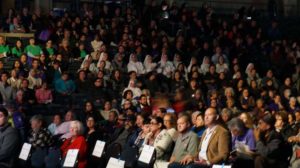 For the fifth consecutive year, the Archdiocese of San Antonio, with approximately 4000 participants, came together on Saturday, November 9, 2019 at St. Mary's University for its annual Assembly gathering. Archbishop Gustavo Garcia-Siller invited clergy, consecrated women and men (a small group of SSCJ attended), Catholic school teachers and lay people from across the Archdiocese to journey arm-in-arm as Missionary Disciples of Jesus Christ. The Assembly is a day in which we celebrate our Catholic identity and rejoice in fellowship and communion. This year's theme for the Assembly was "Sent by the Spirit – Building a Catholic Culture of Accompaniment".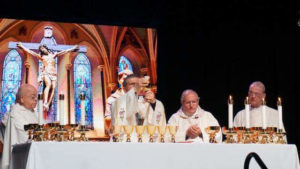 The day began with a Mass celebrated by Archbishop Gustavo. Then, keynote speaker, Fr. Daniel Horan, OFM, encouraged us to become a "Church of Accompaniment" to the vulnerable, to be a Church that goes out to all those we encounter, to the peripheries of our world, so that no one is excluded. As Sisters of the Sacred Heart of Jesus, we joined the Archdiocese for this day of formation to reflect and resonate with our Chapter call to be women religious who embody a Catholic culture of accompaniment with everyone we encounter.
During the lunch hour, priests were available for the sacrament of reconciliation followed by afternoon small group sessions. This year, attendees chose the topic and language of their preference. The event closed with Archbishop Gustavo's "spirited" comments and a joyful sending forth to be a "Church that accompanies".
Sister Elizabeth Ann Vasquez