There were 6 jars intended for purification in Cana that were almost empty. Six jars. But seven is the number of completeness and perfection. So where is that missing seventh jar to bring everything to completeness.
Yes, something is missing in Cana, starting with the wine. The wedding wine has run out. In religious life, we also, at times, have the impression that the joyful wine of new beginnings is starting to run out. It seems that there is no more joy to be had in starting something new. We still have our rituals, our pious routines that endure but they are running low like the small amounts of water left in the jars.
All of a sudden, everything changes with the presence of Jesus. The taste of the water even changes so that it tastes better than a good wine. Six jars are full. It is grace that allows what is ordinary to take on an extraordinary taste. Our lives are revitalised with the taste for living for Christ and for others. But what about the seventh jar?
What if it was the Heart of Christ, filled with the waters of grace and the wine of salvation? Actually, we are the sisters of the seventh jar: our vocation calls us to transmit the love of Christ so as to give back flavour to the lives of those who come to us. We are the sisters of the new wine.
May a new start in September be an opportunity to let the presence of Jesus revitalise our personal and community lives!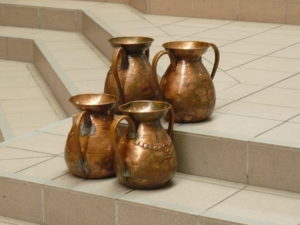 Sr Anne, Superior General.
Esperanza n°7 – September 2020