5 years ago Pope Francis published the Encyclical, "LAUDATO SI'" that sowed many seeds of deep conversion throughout the world. It is a revolutionary text that focuses our attention on the importance of stopping acceleration, warns us of the danger of deforestation (that has contributed to the present crisis), and calls us to reflect and be creative. This urgent appeal has led Catholic and other religious communities to question themselves on ecology. Everyone has put concrete measures in place to reduce their environmental impact and strengthen their connection with the Creator in prayer and reflection.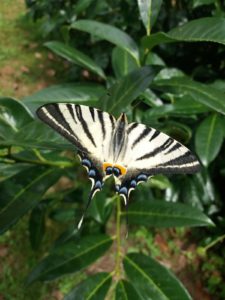 But all the while greenhouse gas emissions continue to increase, species are disappearing at an alarming rate and everywhere men and women continue to suffer from the effects of this ecological crisis. The increased destruction of our planet is worrying and we need to avoid "committing a grave injustice towards the poor and future generations" (Vatican, June 14, 2019)
Why should there be a Laudato Si' week?
The urgency of the situation calls for an immediate, united global response on all levels. We must work hand in hand with all people of good will: evaluate with sincerity past actions and double our efforts to commit to more ambitious actions that are more likely to "help in healing creation".
Laudato Si' teaches us how to build a better world.
Since its publication, major progress has been made but "what kind of world do we want to leave to those who come after us, to children who are now growing up?" (LS. 160)
In a video, Pope Francis invites us to celebrate together, https://laudatosiweek.org/ from May 16 to 24, 2020. "I renew my urgent call… the cry of the Earth and the cry of the poor cannot continue… Let's take care of creation… Let's celebrate Laudato Si' week together".
To advance on the road of ecological conversion, Catholics are invited everywhere to unite with all persons of good will to reflect and discern in prayer on the lessons of our time and prepare together what we wish for the future.
In this month of May, we are ending a period of lockdown during which our activities, relationships and our lives have been turned upside down. Our world is very much affected by the coronavirus pandemic. Laudato Si' tells us "that everything is connected", and that this health catastrophe has a lot in common with the ecological catastrophe. These are two world emergencies that concern the future of all humanity. The week of Laudato Si' is an ideal time to reflect on the present crisis. Like a compass, this Encyclical can guide us in redefining the kind of world that will exist once the pandemic is over. Starting from zero, how can we build the world of tomorrow so that it will be more human and fraternal?
What to do?
Listen to Francis: "I would like to invite you to participate in Laudato Si' week. May your community, your group, your parish…organise a prayer meeting for creation, plant fruit trees and other kinds of trees, install solar panels…, I appeal to all of you to join in this movement. Find an activity, activities that work best for you…, and if we add them up all together they can greatly help the protection of our common home".
There are l.3 billion Catholics in the world and we know that all over there are men and women of good will who are open to joining with us and this is a great source of strength. Youth and first nation communities throughout the world are concerned for the future and are already active in their own way. For new growth and stronger roots, our Faith invites us to act together in the spirit of Laudato Si' and integral ecology. "All of us can cooperate as instruments of God for the care of creation, each according to his or her own culture, experience, involvements and talents." (LS, 14)
We are approaching the feast of the Ascension and Pentecost, a time when the Holy Spirit comes to enlighten us. Ask Her to put an end to this pandemic and be with us to bring about necessary changes for a better future for all.
Sister Anne Marie Mabon
For "Peace Justice Environment"
The week of Laudato Si' is sponsored by the Dicastery for Promoting Integral Human Development and is organized by the Global Catholic Climate Movement and its partners.
For more information go to: Vatican News