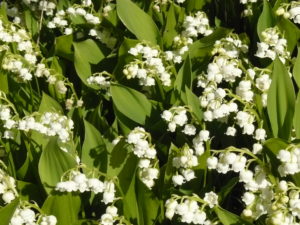 A lovely surprise came for all the sisters at the Mother House on this April 20th! Some lilies of the valley from one of our employee's garden, some flower pots waiting for new life, and, as with the stroke of a magic baton, some expert hands got to work to place little bouquets all around the house: on the dining room tables, in the living areas, in the bedrooms of those sisters who are confined. Thank you to the employees for this delicate gesture.
Another surprise arrived at the end of the same day. The Director of the Tropical Park in St. Jacut arrived with a case of tulips! During this time of lockdown, he and his personnel wanted to express their support for the elderly in institutions in the surrounding municipalities. With this noble gesture, the investment intended for visitors at the park turned into an act of sharing with others. These tulips must have been spectacular to see in the fields before they were cut! They were so beautiful that we were in ecstasy as we took them out of the cases: peony tulips, parrot tulips, bouquet tulips, and others we did not know by name!
They were placed in the chapel, in the oratories and everywhere in the house. We also shared them with the neighbouring sisters and the personnel. As we marveled at their beauty and size, we were none-the-less conscious of the investment they represented, and we are aware of how this time of confinement deprives people of the fruit of their work!
Lilies of the valley! Tulips! What a beautiful language! Thank you for these life-giving gestures. They are part of all the victories over lockdown.
Sr Yvette – St Jacut, April 26, 2020