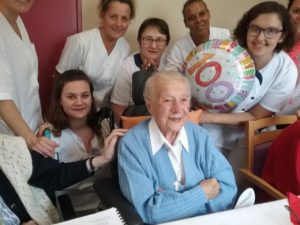 Happy 100th Birthday, Sr. Félicité!
On the morning of October 17, the sun pierced through grey clouds. In our hearts and on our lips, throughout the corridor to the chapel, good news was being spread: "It's today that Sr. Félicité turns 100! Do you think she will be in the chapel for mass?" Yes, a health care worker is pushing the wheelchair of our centenarian, accompanied by Sr. Suzanne. Here we are, gathered together around our sister in joyous thanksgiving. Father Dréano chose readings to fit the occasion, "As the chosen of God, then, the holy people whom he loves, you are to be clothed in heartfelt compassion, in generosity and humility, gentleness and patience." (…) Colossians 3: 12-17. "I have loved you just as the Father has loved me. Remain in my love." (…) Jn. 15:9-17. With one heart we sang the Magnificat as the celebration came to a close.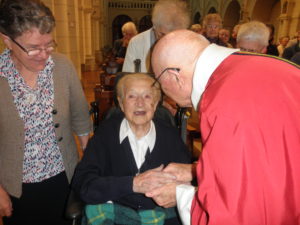 This tone of joy, gratitude, and fraternity set the atmosphere for the rest of the celebration. In the dining room, which had been decorated by those who welcomed us, balloons floated to the ceiling: Happy Birthday! Welcome, 100 years …! Srs. Martine and Marie-Odile Cancouët, and of course Father Dréano as well as Mrs. Rivalin, the director of the Mother House, and Mrs. Annabelle in charge of health services were with us for the appetizers. There was also music, thanks to our three sisters who are good with sound equipment and to those who sang the refrains: Happy Birthday! Our most sincere wishes… The day has come when life sings thank you… A message from Haiti brought back to life what we remember about Félicité's fine accompaniment of Sr. Marie Sébastien. During the meal, fond memories reminded us of a simple life, given in humility, a life of prayer and service.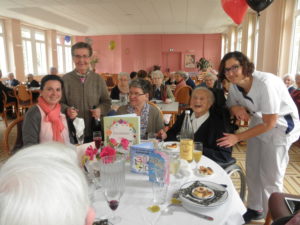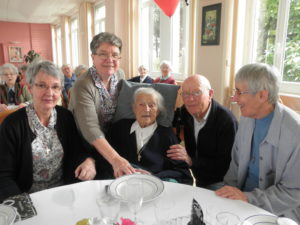 These small events that were shared were brought together in a text addressed to Félicité by Sr. Germaine Provost. When Suzanne asked our sister what she wanted to say to mark this special day, her answer was clear and sure: "God loves us, He always loves us deeply. He gives us Salvation, He saves all men, if they are willing."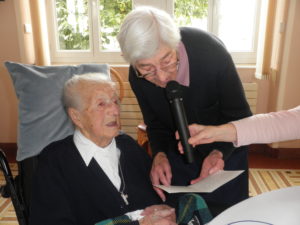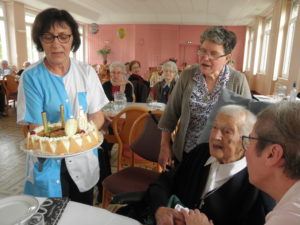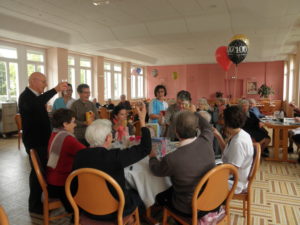 Here are a few gathered quotes that were spoken by our sister:
At the Redon hospital, during a visit following a meal when she had not eaten her desert, she said good heartedly, as she pointed to the small container of cream, "It is too bad that the container is already open and that some of it has been eaten because otherwise I would have given you some."
I only have one brother left, but he doesn't phone me. I understand because he doesn't hear well. I am not unhappy about that… I am not unhappy here, I am happy! The ladies are very helpful! But when the day comes, I will be very happy to go back to the Mother House.
For our community, this day was a lovely day of fraternity that strongly invites us to cultivate fraternal love at the heart of our daily lives.