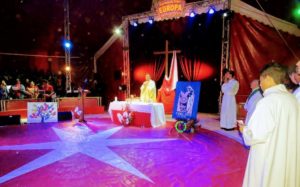 On Sunday, October 13, 2019, the parishioners of Trappes (Yvelines, France) lived an extraordinary missionary initiative. They gathered for a rather special family mass under the "Europa" circus tent.
The acrobatic and juggling talents of the circus people, accompanied by the N'Joy Choir from Trappes, became prayer for the 400 Christians who had taken their place under the tent.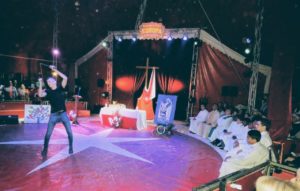 After the Eucharist, under sunny skies, a friendly picnic allowed for exchanges between the participants and the Gontelle family, the owners of the circus. During this time, around a hundred immigrants, mostly Muslims housed in a hotel in Trappes, were welcomed among them. The children and their families had been invited by Catholic Relief with the participation of parishioners.
Then it was the circus show with artists and animals that captivated young and old.
Starting from an original idea to link the faith and the presence of the circus, to welcome the other as different, to bring together the itinerant and the sedentary, this meeting was a strong moment of discovery, acquaintance, prayer, friendship, celebration, and wonder.
The Sisters of the community at Trappes