It is always with joyful hearts  that we celebrate September 29, 1828, the unforgettable day when Angélique Le Sourd and her companions took the habit and made their first profession.
To commemorate this day, a mass was celebrated by Fr. Louis Parfait, a Salettin priest, and during which three young women asked to enter the postulancy: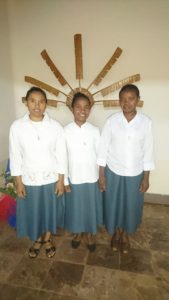 Marie Odette RAFANIRIANTSOA
Marie Esther RAMAMINIRINA
Aimée Odile RASAFIDIARISOA
It was a beautiful celebration that took place in the Regional House chapel.
After mass, the two communities and the aspirants shared a meal at the formation house.
We wish the new postulants a good formation year in the footsteps of Jesus. We are united in prayer!