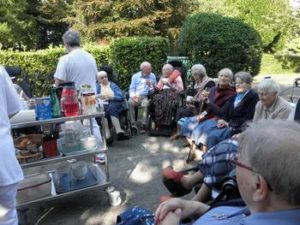 A lovely improvised gathering was held in the yard that surrounds the main floor of  Our Lady of Lourdes service area at the Mother House in St. Jacut les Pins. It was in a well shaded area, with pleasant weather, service carts that were well loaded for a delicious snack and a large circle of benches, chairs and wheel-chairs so that each sister could find a place around the table.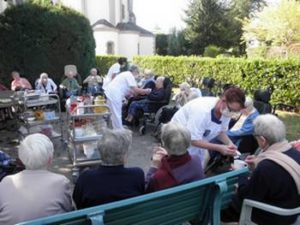 The joy was evident on their faces. The facilitators, Christèle, Natacha and Céline were attentive to each person with sensitivity and humour: Nurse Véronique added her contribution.
Once the snack was over, it was time to sing a tune.  Not easy to find a song to bring everyone together, but some songs worked better than others:
"Oh novitiate, oh novitiate" opened up the singing…  "She was Anne of Brittany" was also popular….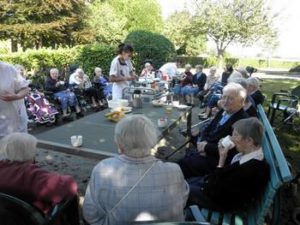 Father Dréano's voice lifted up the songs to reach the few sisters who stayed in their rooms, the singing directors improvised.  So happy to come together, to share joy around a glass of fruit juice or a coffee, and don't forget the small cakes!
Yvette and Annie, SSCJ