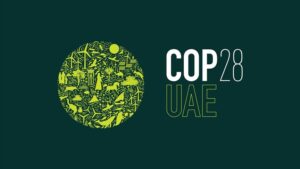 Pray for COP 28
Pope Francis reminds us in "Laudate Deum" that COP 28 being held in DUBAÏ from November 30 to December 13 is a major meeting.  For him, the concern for protecting creation is ongoing and he will be going to Dubaï from December 1-3, in answer to an invitation from the President of the United Arab Emirates. 
Aware of the situation, Pope Francis has launched an unprecedented call for action for our common home.  He doesn't hesitate to point out, "The United Arab Emirates is a country of the Persian Gulf known as a great exporter of fossil fuels, although it has made significant investments in renewable energy sources." (LD53)
Nevertheless, "To say that there is nothing to hope for would be suicidal, for it would mean exposing all humanity, especially the poorest, to the worst impacts of climate change." (LD53)
"This Conference can represent a change of direction, showing that everything done since 1992 was in fact serious and worth the effort, or else it will be a great disappointment and jeopardize whatever good has been achieved thus far." (LD54)
Despite the continued investment in fossil fuels, if we have confidence in humanity, "We can't give up dreaming (…). Let us finally admit that it is a human and social problem on any number of levels that calls for involvement on the part of all" because "every family ought to realize that the future of their children is at stake." (LD58)
Are we going to answer the call?
In the face of such issues, we sometimes feel powerless, but don't forget, that no matter where we are and what we are capable of, we believers have a very important "tool" available to us that we can all use, prayer.
With all people of good will, engage and unite together to pray for the decision makers going to Dubaï.
"Efforts by households to reduce pollution and waste, and to consume with prudence, are creating a new culture. … even though this does not immediately produce a notable effect from the quantitative standpoint, we are helping to bring about large processes of transformation rising from deep within society." (LD71)
Propelled by faith, grace, and prayer, to take daring actions and make simple gestures out of our ordinary lives, we will learn to be better guardians of the Creation that is entrusted to us by God, and we will be able to create the changes we need.
United in prayer and action, participate to "make COP28 a historic event that honours and ennobles us as human beings" (LD59).
God Creator, you offer the world as a gift from your hand… Help leaders that will meet at COP 28 to not only be aware of what the problems are, but to have the courage to make substantial changes. (LD56) – (Prayer for COP 28)
Sister Anne Marie Mabon, Justice, Peace, Integration of Creation