Among the sisters on the main floor of Notre Dame de Lourdes, celebration is in the air, and what a celebration it was…!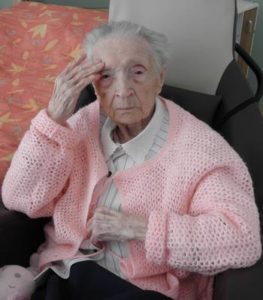 Constance Rouvrais blew out 108 candles, and thereby took the lead on all the other centenarians in the Congregation.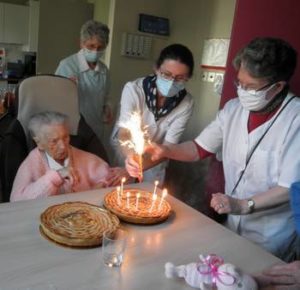 In France there is an association that follows them day by day, all the women older than 107 and all the men older than 105.
I had a phone call with Mr. Denis Le Fèvre, who is the president of the association, and this is the data he shared with me:
In France, 215 women are older than 107 years of age, and our dear Constance is in the 131st place on the list.
(On June 11, 2020 she was the 199th out of 224 women)
In the department of Morbihan there are 4 of them.  The first two are 109 years and 240 days and 109 years and 143 days respectively.  They live in the same health centre in Arzon.  Constance is in third place.
46 men are older than 105 and the oldest in Vannes, Morbihan is 105 years and 352 days old.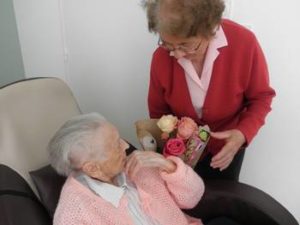 Congratulations to out dear Constance, who is not trying to break any records, but instead welcomes the life given to her, saying "thank you" and "I'm sorry" each time someone cares for her and renders her a service.
Sr. Yvette Guyot, sscj
.