Such a celebration here at the cemetery is unusual, but today, nothing is as usual: today is not like other days, it is Holy Friday! And the circumstances we all live are very particular.
Here, today, thankful for and sensitive to the presence of some family members who have been able to join us, we all form Marie Gabrielle's family, along with the sisters who follow the celebration from their rooms or other living spaces.
We were not able to go to the chapel, but there is more than a chapel here: by our coming together (keeping our distance, of course!), we make up the Church, and we want to accompany our sister in her Pascal Mystery, her passage to true Life!
And we too are committed. On this Good Friday, we are strongly encouraged to lift our eyes to the Cross of Christ, the one here in our cemetery, the one on Golgotha. May this faith-filled gaze sustain and fortify our hope and may the Lord keep us in his Peace.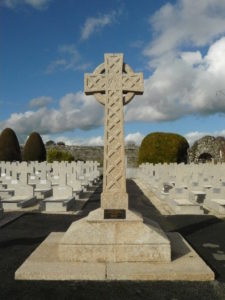 Let us sing Psalm 130: Keep my soul in peace, close to you, Lord!
Welcoming words of Fr. Jean Dréano at the cemetery.
Saint Jacut-les-Pins, April 10, 2020