On September 29, the universal Church honors the archangels Michael, Gabriel and Raphael.
On September 29, 1828, there was a big feast in Saint Jacut! Six women consecrate themselves to God by making their first religious profession.
On September 29, 2021 the Sisters of the Region of Saint Therese (Cameroon) joyfully welcome to the French speaking novitiate in Ngaoundéré four young Cameroonian women and three Malagasy.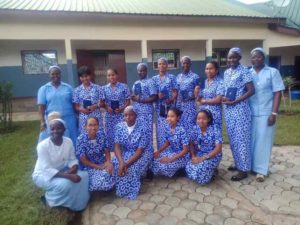 First and second year novices flanked by Sr Naya to the left and Sr. Céline to the right.
May the Lord and Mother Angélique help them on their vocational journey.
Sœurs Annie-Aurore et Célestine