My soul magnifies the Lord, Alléluia, Alléluia
My spirit rejoices in God my Saviour, Alléluia, Alléluia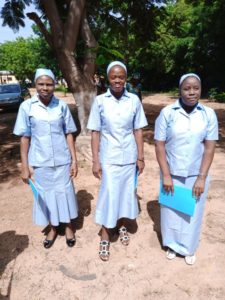 From left to right: Christiana, Cordelia, (Nigeria) Célestine (Cameroon)
On the day after the feast of the Assumption of the Virgin Mary, the Region of Saint Theresa of the Child Jesus of North Cameroon had the joy of welcoming Christiana NKPE EBEGIM and Cordelia YEMATSE DENNIS, and Célestine MASSING. For us, it is the first group of novices formed in the Francophone Novitiate in Paris to make profession.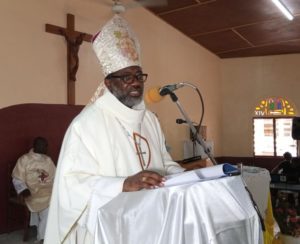 Mgr. Faustin Ambassa-Ndjodo welcomed the assembly
We are happy to see their joy and how well they speak French, impressing more than a few people.  Of these three young women two are Nigerian and one is Cameroonian, and you can't tell the difference between who is French or English.  That is how well they have mastered the nuance between these two languages.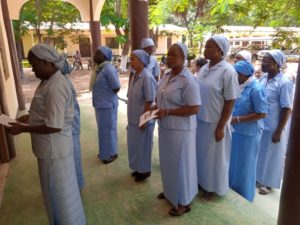 We will remember this August 16, 2021 as a day when S.S.C.J. joy was at its fullest and how it was lived as a consolation received from the Lord.  Although our presence in Nigeria was very short it brought us into contact with two of their young women who are today being consecrated to the Lord.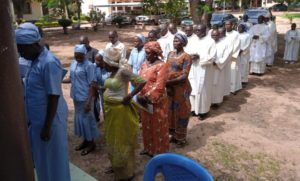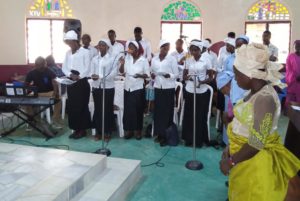 The celebration that was carefully prepared by the chosen of the day, the novice mistress, the Regional, Sr. Edwige and the Eugène de Mazenod parish choir was edifying and strengthened our faith.  The commitments of Christiana, Célestine and Cordelia gave us the opportunity to renew our first yes, to associate ourselves with their generosity in following Christ, and finally to give thanks to the Lord for the charism of Angélique which continues to be the means by which the mission of Christ lives among the humble of our time.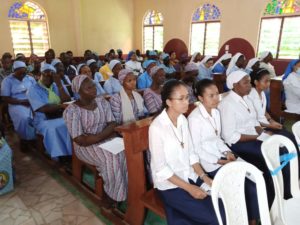 On the face of each S.S.C.J. of the Saint Theresa Region we could see the joy of the Magnificat of the Virgin Mary.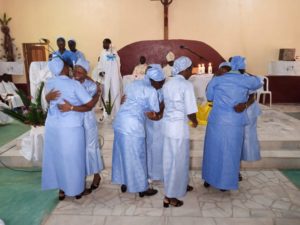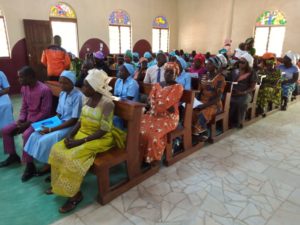 We marvelled at the generosity of the parents who allow their daughter to choose religious life in order to serve the Lord.
With joy and thanksgiving, the families went home convinced that from now on, thanks to their daughters saying YES to God, they will be enriched by the spiritual family of the Sisters of the Sacred Heart of Jesus.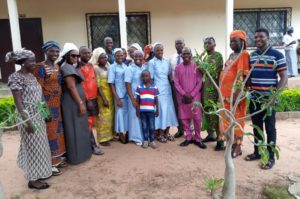 May the Name of the Lord be blessed for all time!
Sr. Marie Pascal GUEDOM, SSCJ – Cameroon