While congregations in northern countries are hit hard with aging and struggle to renew themselves, southern countries welcome young people who have plans to consecrate their lives to God within Religious Life.
The Region of Cameroon has welcomed a new postulant whose name is Viviane.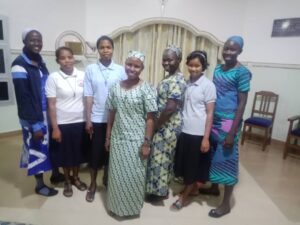 Viviane encircled by first year novices.
We wish that, in the footsteps of Angélique le Sourd, "this time of formation, discernment and increase in the knowledge of the congregation may go well" and we assure her of our prayers.
Sr. Annie-Aurore