Valérie (facilitator) and Christophe (health care aid) will go to great lengths to offer leisure activities for a few of the residents at the Mariners Long Term Health Care Facility (EHPAD), which is part of the Redon Hospital Center.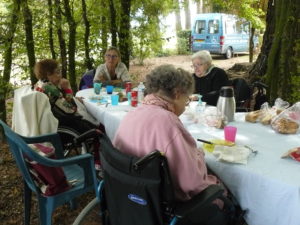 Marie-Rose, Michel, Léone and Jeannine very much enjoyed having a picnic on the grounds of the Mother House.  The fresh air increased their appetite.
It also was an opportunity for them to discover the community of the Sisters of the Sacred Heart of Jesus.
Next was the visit to the chapel. On entering, Christophe was immediately struck by the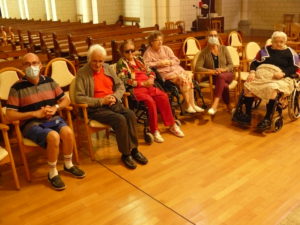 "quietude" of the place. Then came the questions …, "Where are the sister at this hour? How many are there? What do they do?…" And quite naturally Marie-Rose, the eldest of the group, and future centenarian (November 25, 2020) suggested, "what if we say a "Hail Mary".  So I proposed that we sing together, "Hail Mary", as we have the habit of doing every Tuesday afternoon at the EHPAD.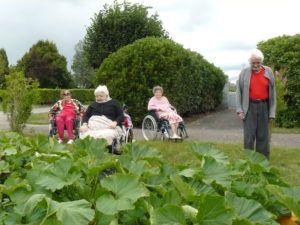 We continued our visit with a tour of the grounds, making several stops: in front of the enormous pumpkins admired by everyone, and the magnificent cemetery in full bloom, the splendid laurels growing along the enclosure wall, and a stop at the grotto where everyone gets their picture taken.  Joy is visible on everyone's faces!
After the St. Anne walkway, the dahlias are the envy of everyone; Valérie asked if some of them could be picked. What a joy to bring back a flower to add colour to their rooms.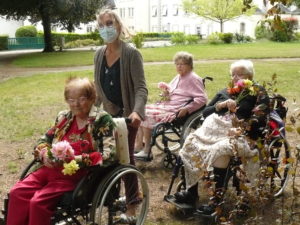 It is time to leave.  Thank yous are exchanged! And the wish to return!