Monday, October 16, 2023
In the Mother House chapel, moved by the Spirit, the Eucharistic celebration, presided over by Father Marivin and our chaplain, brings us together as a congregational body.
« Let us be transformed by the Spirit »
An illuminated globe, the flags of each entity and vigil lights in front of the altar give the international flavor of our congregation.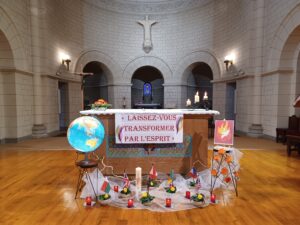 Scripture texts: Galatians 5:16-25 and Luke 4:16-22 open our hearts to following Christ, today as yesterday, looking to the future.
In his homily, Father Marivin invites us to delve deeper into this WORD, leaving us with three words: the three "A "s
Ardor
Audacity
Adaptability
At the end of the celebration, we were sent forth with an invitation to live in hope and trust:
"A thousand reasons to hope, Life leads us to trust in our paths of resistance".
Jesus Christ sustains our journey,
The Gospel enlightens our steps,
Life will have the last word!
Lyrics and music: Laurent Grybowski
Annie SSCJ