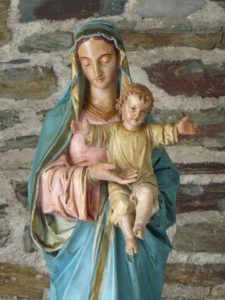 "HAIL, FULL OF GRACE, THE LORD IS WITH YOU"
It is easy for me to hear this greeting meant for Mary, but harder for me, in these times, to receive such a greeting. It is more likely that I am tempted, like the Hebrews who were complaining in the desert, to hurl abuse at the Lord or in the tough words of the Psalm: "Wake Lord! Why are you asleep?" Psalm 44:23 – "Rescue me from disaster." Psalm 35:17. And yet my faith also calls me to keep in mind Psalm 45: "Yahweh Sabaoth is with us, our citadel, the God of Jacob." This is probably a time when our faith is torn, unsettled, not satisfied with pious words that we repeat without ever integrating them. To a faith that is not a guarantee, or a tranquilizer, but a battle. Three names for one person: "God with us", Immanuel, Jesus that means "God saves". God saves by being with us, including in times of distress: the shadow of the Cross can already be seen at Christmas!
NOTHING IS IMPOSSIBLE FOR GOD!
Really? That is way too strong! I have no interest in doing novenas, going to lots of masses so that God will give into my supplications: because He is the All Powerful, He can therefore stop the spread of the virus. I am not judging those who pray this way. The Lord did say that we need to always pray without ceasing. But I don't believe that God will "give in" according to how many rosaries we pray and masses we celebrate. Today faith tells me that a life began in Mary's womb "without her having known a man". My reasoning reason bows in front of this mystery! A mystery that only finds meaning because I also believe that Jesus was resurrected and that God is therefore stronger than death! God, the master of life: in the beginning as in the end…which cannot be its end. Is death not the passage to True Life as Theresa of Lisieux wrote: "I do not die; I enter into Life!"
FIAT!
"May Your will be done!" for those who do not know Latin. Submission, like in Islam? "Your will be done on earth as it is in heaven", is what Jesus gave us to pray when He gave us THE prayer, the "Our Father". 'Your will be done' was also a struggle for Him at the Passion: "Father, he said, if you are willing, take this cup away from me. Nevertheless, let your will be done, not mine." To do the will of another is not really in our nature except when we are sure that the other person wants what is good for us. But how can we be sure? What is the will of God in our present situation? No one can pronounce themselves on the subject in a peremptory way, thank goodness! On the contrary, I think God speaks to us and gives us signs through every event and situation. Discerning his message, his word, his will, is often not possible without prayer and discussion, alone and in the Church. Always in humility: who can be sure that they are the mouth piece, the prophet of God? False prophets, the world is full of them. Mary, on this day, said yes to the extraordinary plan for her, in trust, not knowing where this fiat was going to take her. May she bring us in her wake, in faith and hope.
Fr. Jean-François PENHOUËT – Mission of France
Évry 25/03/20
(published with the kind permission of the author)