In this period of lockdown we live time differently. Sisters have shared with us the way in which they are taking advantage of these unsettled times.
(This page is likely to change as the days go by!)
*****************************
Lockdown: "Stay home"
On the 8 p.m. Saturday newscast on March 14, Prime Minister Édouard Philippe announced that an emergency lockdown would start on Monday the 16th of March for an indeterminate amount of time. Security health measures are to be respected. Starting with Sunday, March 15, religious services will not be allowed.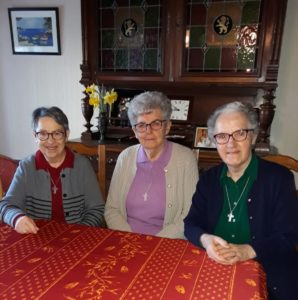 In our community we organized ourselves so that we could live being in lockdown in the best way possible.
Every morning on KTO, at 7 a.m., we watch Pope Francis say mass at the Saint Martha chapel. Our prayer focuses on health staff, researchers, governments, the sick, families and those who have died.
We each take our turn, while being careful, to do weekly errands with permission papers in hand that allow us to go out. We try to live, the best we can, this time of lockdown. We have a spacious yard with trees and flowers. We think about the individuals and families whose situation is precarious, about the migrants and those with "no fixed address".
Every afternoon at 3:30 p.m. we recite the rosary from the Massabielle Grotto.
Having finished (March 17-25) the novena for solidarity to fight the epidemic we now end Laudes with the prayer of Pope Francis. One Thursday, during an extended hour of prayer, we discussed Sister Anne Chapell's letter on Covid-19: an epidemic that "unmasks" us. The sharing was very enriching.
Each day, before we have a snack, we do 15 minutes of exercises together. When the weather is nice we go out on the veranda. It is a daily ritual that is good for our joints.
Our priest, Fr. Chedly, faithfully sends us his Sunday homilies.
We are encouraged by the messages we receive and send about parishioners and associates helping each other.
Our time in lockdown is something we live calmly. We have time to pray, to read, to discuss. We phone the people that we were in the habit of visiting.
This unprecedented crisis helps us get to what is essential. We sense that there is great solidarity throughout the world. We benefit from the many creative people who find ways to make masks.
"Locked down… yes…isolated….no".
On April 25 we followed the mass held at the Church of Notre Dame des Otages which celebrated mass for the 204th year anniversary of the foundation of our Congregation… Like Angélique who knew how to reignite the flame of hope in her milieu, we want to commit ourselves to being sowers of hope at the heart of the world wherever we are sent.
The community of Jonzac
*****************************
We started our 6th week of lockdown with a change in our milieu, we are now located next to a clinic that takes care of the sick with Covid-19.
Like everyone else we are in lockdown, but we are lucky to have a park where we can go each day to admire trees and flowers and take in the sun.
During the time of Lent we prayed to the Lord for the sick, residents and health staff, cooks and cleaners who we admire for their unfailing dedication, working day and night.
Of course we don't visit the Long Term Care Facilities that are on total lockdown. We haven't seen our 3 sisters (living in the studios) for three weeks; we keep in touch with them by telephone and email. It will be a great joy, at the end of lockdown, to meet each other again and celebrate together with the sisters living in the studios, during Easter season.
As a community we lived this past Lent intensely: Way of the Cross every Friday, time for reconciliation along with our sisters at the Mother House, different ceremonies during Holy Week thanks to the Internet and the TV station.
Together, we continue in Trust and Hope, united with all our brothers in humanity!
Community: 54 St Hélier Street – Rennes
Élisabeth, Thérèse, Yvonne
Anne-Marie and Marie-Yvonne
*****************************
Easter at the Mother House. During this time of lockdown when the sisters are spread out throughout the big house, a tapestry of fraternal relationships, simple and joyful has been created: between sisters, the Chaplain, the staff and their children and even people from outside who bring us goodies!
From the skilled hands of our staff appeared a rooster filled with eggs placed in front of each table setting. Suddenly, and without warning, Marie Madeleine appeared with her spices looking for the body of Jesus. She searched passionately: But where is he? She is not alone, there is Peter, spirited and spilling over with joy: He is alive! I tell you: He is alive! He seems to be delirious with joy, proclaiming his message throughout the house. Then John arrives, radiant, calm and with a laugh, "Me too, I saw and I believed right away!"
Our three actresses went from one room to another, in the sitting rooms, in the two dining rooms,… all the sisters had a surprise visit! It was a real surprise for everyone! Hear what they had to say:
• It was well played, not bad, I enjoyed it, I am still laughing about it to myself!
• It brought life, joy, in spite of the lockdown. It brought joy!
• A surprise and then a barely recognizable Pauline, each of them said a little something, it was fun and a surprise!
• It was fantastic! Then and there I thanked them for the cards, ceremonies, this is where we see fraternity, how lucky we are to have the sisters! These moments let us experience our life as a family!
The Resurrected Lord lives within these actions that make up our days! May these testimonies make Him alive for us!
Sr. Yvette
*****************************
Preparation for Easter
at the formation house
in Papua New Guinea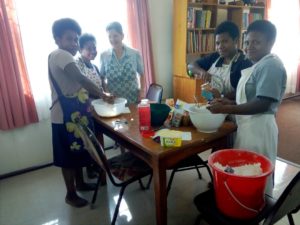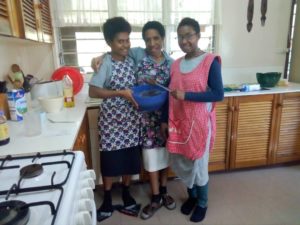 Making cookies for Easter.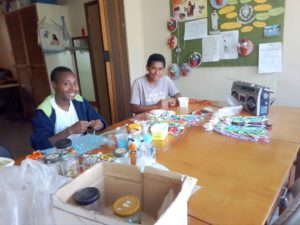 Putting together rosaries to be sold after lockdown.
The sisters in Megiar invited their neighbours to say the Rosary to pray for the end of the pandemic.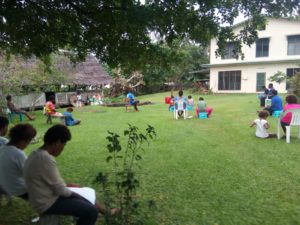 The rules of physical distancing were respected.
*****************************
"Wake up, You who sleep,
Rise up from among the dead,
And Christ will be your light"
During these times of confinement these words dwell within me on a deeper level; more than ever mass media is showing creativity in the way it helps us contemplate the suffering Christ, Life, in all its beauty, in the total Gift of self!
And this brings to mind Father Babin's magnificent text:
"How then is beauty revealed? Normally it is because someone has awakened it in us. More than a teacher, an awakener of beauty, is above all a 'beholder of the flesh', passionate about quality, and appreciative of nuance …Not the beauty you find in hair salons, but the beauty that radiates in the wrinkled faces of some of our elderly when they have been faithful to life and have seen what is beyond."
The Resurrected Jesus opens up before us a beautiful path!
Awakening Beauty!
Awakening Hope!
Sr. Marie Josèphe Bodénès
1. Pierre BABIN – o.m.i, "L'ère de la communication", p. 115
*****************************
"This is how we are living lockdown and how we follow the directives given to us.
We live the morning in silence and in individual prayer; community prayer is at the end of the day followed by what is on the Christian Radio: RCF.
Father Franck from the parish brought us a tabernacle with the real presence because we can't participate in the Eucharist. We pray in unity with the priests, the parish and the whole world. We telephone the elderly, sick and isolated people that we know.
People have offered to do our errands, which makes us somewhat dependent, but we whole heartedly accept their help.
Since we live in a rural area there is enough space to go out around the house, up to a km distance, as we were told; which also allows us to speak to a few people while keeping our distance. Our neighbour's chickens are always cooped up so we take advantage of good free eggs. Flowers are left at our house to make it look nice."
Sr. Madeleine, for the community of Janzé – France
"The internet and telephone allow us to stay connected. Each week, we are lucky to receive different suggestions from the group of priests in our parish:
* a message that gives us things to explore during the week, how are we "guardian angels" for those around us?
* a reminder about the time of their prayers and of the celebration of the Eucharist, "Angelus" when the bell rings at 12:00 p.m.,
* Sunday homily,
* texts for prayer.
A blog was set up to help us "live community during this time of confinement" in order to stay in communion with each other.
As a community, to stay in shape, we walk for 30 minutes twice a day, as well as doing some exercises.
At the beginning of the afternoon we play Scrabble or Rummikub. And then thanks to the television station KTO we pray the Rosary live from London at 17h45: Vespers and the Eucharist are watched live from St. Germain Church in Paris.
Let us stay united in fraternal and spiritual communion."
Community of St Malo – France
"I can say that since we have been in lockdown, I am letting myself savour a quieter and more interior life…I like and apply in my daily life the phrase, "The silence of Holy Saturday" that the Bishop of St-Hyacinthe used regarding the absence of liturgical celebrations.
Every day I go for a walk in the big parking lot at the secondary school next door to us, I am putting all my files in order and I discard…, cook, clean…
The community gets together to watch the televised mass every morning and to say vespers in the evening. We take advantage of meal time to share and in the evening, we sometimes play cards."
Sr. Nicole Alarie – Canada
"I have been able to keep myself busy. We pray the office together; morning and evening and we follow mass on the Internet. Every day we play two games of Scrabble: it is a good community exercise and it keeps our brain cells working! Along with an hour long walk the day goes by fast. Every three weeks I do the cooking and the shopping.
I was supposed to attend a three-day session at the beginning of April. The texts for reflection were sent to us through the Internet and allowed us to share with our group. Interesting.
United in heart and in prayer."
Sr. Marie-Odile, France
"Personally, I only go out once every 3 weeks to shop. Except yesterday I went for a short visit to Paris. I went for medical treatment and the specialist said that I absolutely needed it. So, I went by taxi (covered by Social Security). I can tell you that I really enjoyed seeing nature in springtime in another way than through my window!"
Sr. Aline, France
"I am learning to live one day at a time with blank pages in my agenda: I don't have to prepare for any activities or carry them out!
What helps me, is the daily meditation of the Word of God. A friend thought of "virtually" bringing together a group of 20 people to whom he sent the Gospel of the day along with a few questions. The goal is not to increase our knowledge of the Gospel but to meet Jesus and to listen to him deep within us. Occasionally we share our questions and what we have discovered.
By using this simple means, I try to live humbly in communion with our planet."
Sr. Suzanne – Canada