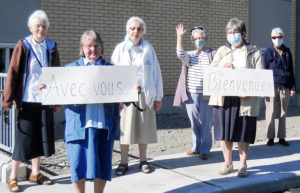 On June 8, 2020, when we were faced with the impossibility of being present to our sisters who were moving from Caledonia Manor to the Pavilion in Embrun, we took the opportunity to be present to the Servants of Jesus and Mary, a contemplative community, that were moving on the same day into their new Monastery adjacent to the Diocesan Center.  Their Monastery, on Laurier Street in Gatineau, where they had lived since 1902, was now too big and old to meet their needs.
Before they arrived, fifteen people had come together on the sidewalk holding posters saying, "Welcome" and "We are with you".  When they saw us, one of the people accompanying them exclaimed, "It is so good to see you!"  We also had the chance to greet the sisters as they were getting out of the paratransit vehicles with a smile and most probably with pain in their hearts.  The Mother General Servant expressed her gratitude for our presence of proximity and then she took a few photos.
We, from the Persons of Consecrated Life Network of the Diocese, are proud to have lived this gesture of welcome in solidarity and fraternal communion.
Srs. Jeanne-d'Arc Dufour, Ghislaine Marion, Monique Lalonde