We arrived at the "Oasis" on the Mother House property on July 17, 2020 where we spent eight days of vacation.  Each day we went on short bicycle trips that put us back in shape.  We were all pleased with ourselves.
We also did some visiting in the neighbourhood: the Graë and Our Lady of Pont d'Arz chapels.
We went to the ocean at Damgan, it was super! It was in a spirit of fraternity that we lived the day.
Separated into two groups, with Sister Marie Claire Rivière, we were able to familiarize ourselves with the archives.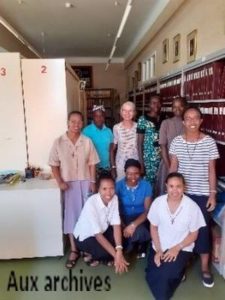 What a joy to be welcomed into the different communities of the Mother House, the Provincialate, and the St. Laurent community.
Our stay was very busy and on July 25 we returned to the novitiate community in Paris.
Thank you very much for your hospitality!
Rosaline ; Joséphine ; Clarisse ; Cordélia ; Célestine ; Norine ; Christiana ; Flavie