It is surprising! But if you take a map of the area you will search in vain for the seaside!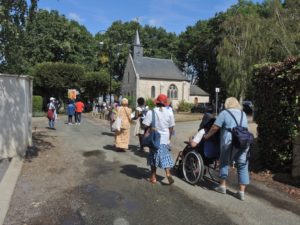 But the river Seine flows into the sea… and all Christians are being invited to converge towards Mary, Star of the Sea! So it is therefore in a peaceful place, far from the commotion of the masses of the suburbs of Paris, where we, as a diocese, joyfully celebrated the feast of the Assumption of the Virgin Mary.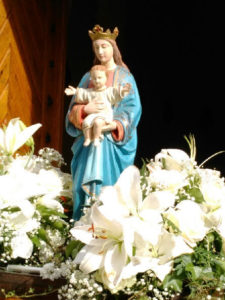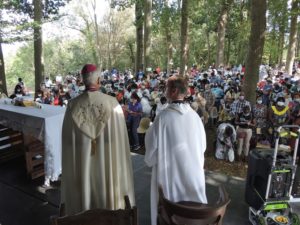 After a solemn mass at the church of Mantes la Jolie, we made our way by bus, and then on foot,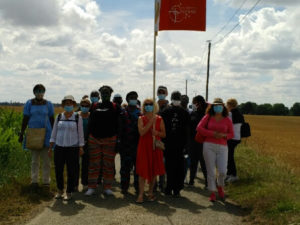 to this green space, overhanging the Seine valley.  A Chapel is dedicated to Our Lady of the Sea, situated in the village bearing that name.  (This sanctuary dates back to the 10th century).
This year, health restrictions allowed the organizers to open up the pilgrimage to only the working class parishes, therefore, Trappes (Diocese of Yvelines).   But everyone was praying in communion with those who were unable to attend.  Certainly many "Ave" reached the heart of Mary who lives her mission in presenting all of our supplications to her Son.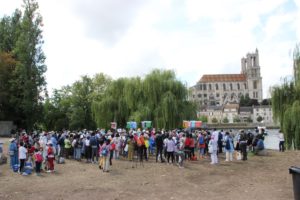 Monseigneur Aumonier, since his arrival in the diocese, has brought new life to this annual Marian gathering.  It will probably be the last time that he will preside because in February he will reach the age limit for being a Bishop… For that reason, he wanted to make the trip by boat, accompanied by a representative from each parish, while blessing people all along the route.
Throughout the day he invited us to be pilgrims of hope, a major undertaking in this very unsettled world!  As Sisters of the Sacred Heart of Jesus this message connects us with our Chapter Orientation, "Be bearers of hope in the heart of the world".
Sister Aline Hélias